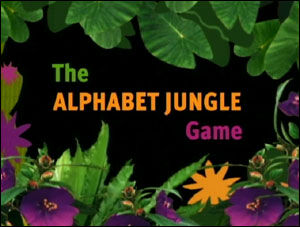 The Alphabet Jungle Game is a Sesame Street compilation video released in 1998. Telly, Zoe and Elmo host this direct-to-video release filled with dozens of classic cartoons.
The video is a companion piece to The Great Numbers Game.
Picture
Segment
Description

Cartoon
Alphabet Jungle
This song serves our introduction to our adventure.

FRAME 1
Elmo, Zoe, Telly and the three kids welcome to the viewer to Alphabet Jungle, where cartoons of each letter hide. Zoe is anxious to see the letter Z. Elmo spots the letter A and "Soul A".

Cartoon
Soul A!

Cartoon
A man creates an avalanche of the letter A.

Cartoon
B/b (Gordon Voiceover)

Animation
Pencil Box B/b
Sound effects added.

Cartoon
A fan reveals the letter C.

Cartoon
A car drives by the water.

Animation
D for Dance: Ladies on stage dance a can-can to the tune of "The Infernal Gallop" from Jacques Offenbach's Orpheus in the Underworld, the lyrics of all which are all the letter D.
Elmo is superimposed into the clip, dancing along, who also says "D" at the end.
Spoken introduction cut.

Cartoon
A pencil tries to write the word DANCE
New sound effects added at the end of the cartoon.

Animation
E/e Gregorian Chant
Elmo appears over the segment, reiterating the letter and saying that "E" stands for "Elmo".

Film
Planting Letters: E

Animation
Computer E/e

Film
Candles unmelt the capital and lowercase F.

Cartoon
Suzie Kabloozie hates the letter F, until all F things disappear, including the furniture, the floor and the firefighter.
Artist: Mo Willems

Animation
F/f (space paint)

FRAME 2
Zoe walks in with a G sign, chanting the letter.

Cartoon
Fish form G and g.

Film
G for go, girls, guitar, goldfish, etc.

Film
Kids exploring a jungle find a giant "G" that swings on vines.

Cartoon
The floating kids fly around and form the letter H.

Cartoon
The letter H appears words on buildings.
New sound effects added.

Animation
I/i Pencil Box

FRAME 3
Telly and Zoe fight over the letters I and G; Elmo has them put them together to make the "IG" sound.

Cartoon
A pig dances a jig while wearing a wig.
Artist: Joey Ahlbum
New sound effects added.

Animation
J/j Planet

Film
Letter J at the Beach

Film
K for king, kiss and key.

Film
A big K emerges, Jaws-like, swimming in a pool.

Film
Ornate Ks fly through the air to a song.
Artist: Jane Aaron

FRAME 4
Zoe introduces her second favorite letter - "LMNO". However, Elmo points out that that letter is just made of other four letters: L, M, N and O.

Cartoon
L for Laugh
Artists: Vincent Cafarelli & Candy Kugel
New music added.

Song
L, You Ring My Bell

Animation
M in Space (with astronauts)

Film
M is for Marvelous Martha.
New sound effects added.

Animation
Leaves form N and n.

Cartoon
A woman sings the "O" sound in a brief opera.

FRAME 4 cont'd
Zoe sees that they're all seperate letters, then asks when the letter Z is coming. The kids pop out and yell "Soon, Zoe, soon!"

Song
Big P and Little P

Song
Letter P Menu
Artist: Veronika Soul

FRAME 5
Telly shows the letter P stands for "push" as he pushes the previous segment away...taking himself with it.

Song
Push! Push! Push!

Film
Q for quack. Quiet!

Cartoon
Airplanes carve the letter Q.
Artist: Frank and Cauroline Morris

Film
Girls do a hand-clap game of the letter Q.

Animation
The paper crumples to reveal R, r, and Rr.

Cartoon
Characters on a quilt form the letter S.
Artist: Karen Aqua
Elmo and Zoe appear over the clip, dancing along.

Film
S for shadow, soccer balls, sand and slide

Cartoon
T for tiger, teapot, television and taxi.
Artist: Bill Davis

Cartoon
U knocks on the door of Ps apartment. When she answers the door, they go UP.
Artist: ArtistMike

Cartoon
V in space

Animation
W for water, wind, wave and wet

FRAME 6
Elmo spots the letter X and exclaims "X marks the spot!"

Animation
Stamped and painted X animation.

Film
Ornate Xs spin around in accompaniment to a song.

Animation
Y: Yuri, a yellow yak, eats yams and yogurt.

Animation
The letter Z in various typefaces.

FRAME 7
Elmo, Zoe, Telly and the explorers made their way from A to Z, so they decide to have an Alphabet Party!

Song
The African Animal Alphabet
The explorers appear over the segment, dancing and singing along replacing the animal crackers from the original version. A full credit roll follows along with the first few verses of the Alphabet Jungle song.